Florida Residency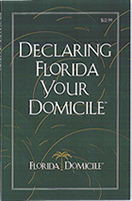 You are considered a Florida resident when your true, fixed and permanent home and principal establishment is
in Florida. Filing a declaration of domicile, qualifying for homestead exemption, or registering to vote in Florida can establish residency. Other actions, such as obtaining a Florida driver's license, only indicate an intent to establish residency.
Homestead Exemption
Every person who owns a dwelling in the State of Florida and who resides in that dwelling, and in good faith makes it his or her permanent home, is eligible for this exemption. Once granted, you are entitled to a reduction of $25,000 from the assessed value of your dwelling.
To qualify you must be a permanent resident of Florida as of January 1st the year you apply for the exemption. Florida law does allow new homestead applications to be filed prior to January 1st of the year the exemption is to be effective. However, pre-filed applications will only be accepted after March 1st of each year for the succeeding year.
Proof of Legal Residence
All of the following items are needed of proof of legal residence:
Evidence of ownership (deed, tax receipt, etc.)    
Social Security numbers for all owners    
Florida Voter Registration (if you vote) dated prior to January 1st    
Florida Driver License dated prior to January 1st   
Florida Vehicle Registration dated prior to January 1st
Optional: Declaration of Domicile filed with the Clerk of the Circuit Court prior to the January 1st of the year of application.
You must have legal and equitable title to the property and reside in the property as your primary residence as of January 1st.
To make Florida your domicile, there is a lot of information to know. That is why I wrote Declaring Florida Your Domicile. Please  complete the form below to receive your complimentary copy of the book. The Top Florida Domicile Questions are Answered Your Complimentary Book:
What is Homestead Exemption? 
How do I quality for homestead exemption? 
What are the Florida tax laws?   
What are the benefits of making Florida my domicile?   
What are the Do's and Don'ts of making Florida my domicile?
 Protecting Your Privacy
Please note, we hate spam as much as you do. We are diligent about protecting your privacy and will never share or sell your private contact information with a third party. By giving us your phone number and email address, you are giving us permission to contact you via email or phone. You can view our privacy policy for more information.